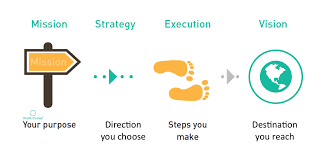 10 Feb

Vision or Mission – Which Comes First?
Vision or Mission – Which Comes First?
What do Vision, Mission, and Strategy mean to you? Which comes first? I always stumbled with these simple, but powerful words until I saw this little illustration.
Let's put it into action with an analogy. I think about it like a ski trip. First, we decide to go skiing. This is the purpose (mission) of our trip. Next, we decide on our destination (our vision). Where do we want to go? We look at all of the considerations (snow level, weather forecast, cost and time of travel, available accommodation etc.) in order to make our choice. If conditions change, we might need to reassess and switch our destination (vision) but our purpose (mission) stays the same—we still want to go skiing.
This is a deceptively simple but very powerful way of thinking about this challenge. And it's incredibly important because these are some of the most critical things business leaders or owners must determine. Quite often we lose the real point and meaning of these words. An idea or a dream that pops up in your head is not a company vision. It is just an inspiration to start thinking about these topics seriously.
Your business needs to have its purpose (mission) defined before you can choose its destination (vision)
But what do you think? Is it your mission or purpose that gets you out of bed in the morning, or are you driven by reaching your destination? For me, the purpose will always win the day.
Author Igor Pistelak  9th November 2017 " Vision or Mission – Which Comes First?"
https://www.linkedin.com/pulse/vision-mission-which-comes-first-igor-pistelak/