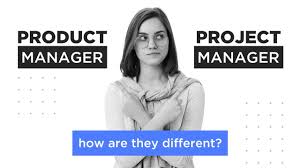 12 May

Project Manager versus Product Manager – Whats the Difference?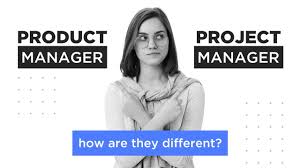 Quite often the terms project manager and product manager are mistakenly used interchangeably, despite carrying out different tasks and responsibilities. While both involve managing something, what they're managing makes all the difference. Both roles can be found in a variety of industries and they are vital to the success of a business. We discuss the differences between project management and product management to help tackle this confusion.
Project Manager
They have to take the product vision from the product manager, develop a project timeline around it, and plan the work for the development team to hit important goals and deadlines. Or, to put it simply, their responsibility is to successfully bring a project to completion within the agreed budget, time, and quality – one project at a time.
This goal usually breaks down into three activities:
Risk and Issue Management 

– involves spotting early on and minimizing potential risks that might delay the project completion.

Planning and Resource Scheduling

– the planning part refers to adding up tasks with a start and end date, assigning the necessary employees to them, setting up the initial time budgets, and preparing the project timeline through specific Project Management Methodologies and tools, like the Gantt Chart. The resource scheduling part, on the other hand, has to do with the daily management of task lists, materials, infrastructure, reports, and people to provide the project team with everything they need.

Scope Management 

– perhaps the toughest activity of them all, it requires balancing the time-budget-quality trio to favourably modify the project scope and bring in line with the initial set outcome. For example, if you shortened the project timeline, then more resources are required which in return increases the budget. Or, you need to modify the scope to meet the quality agreed upon.
Product Manager
They're the ones who set and own the overall product direction, staying with it until they remove the product from the market. It is their responsibility to understand the user needs, translate them into a design or MVP (Minimum Viable Product), and lead a development team to build the product and meet those needs.
This involves typical tasks such as:
Talking to users to gather requirements
Identifying problems and opportunities
Deciding which ones are worth going after
Creating a roadmap and defining features
Prioritizing development tickets
But, above all, it involves product sense. That is having the intuition to know when to move a product from alpha to beta tests when to delay a release because of a buggy feature or remove a product or part of it because it doesn't make economic sense anymore.
Product managers are also responsible for the profit and loss function of a product. That's why they collaborate with the sales, marketing, customer success, and support teams to make sure that they nail the overall business goals, in terms of revenue, competitive advantage, and customer satisfaction.
https://www.paymoapp.com/
Project vs Product
Firstly, it's important to understand the difference between a project and a product. A project is temporary, with a clear definition of activities and timeframe for delivery, whereas a product creates continuous value for customers and doesn't necessarily have a set timeframe. This is largely because customers' needs evolve on a daily, even hourly, basis so products have to keep up with their expectations.
| | |
| --- | --- |
| Project | Product |
| Time-bound (beginning and end date) | No set timeframe |
| Temporary, short-term project team | More permanent, long-term project team |
| One-off delivery | Continuous development |
| Set plan | Vision |
Project Manager Responsibilities
Project managers are responsible for breaking down strategic plans into actionable, task-orientated initiatives. They oversee the entire delivery of a project and make sure it's completed within a set period of time, set budgets and resources. Essentially, they put the plan into action, monitor its progress and make sure it succeeds.
Sounds simple right? Unfortunately, it's not that simple. Managing the scope of a project is a very challenging task, as you must align and allocate time, budgets and resources, whilst managing the project team and any issues or risks that may emerge. It's safe to say it takes a very organised individual to deliver a project on time and within the specified budget.
Product Manager Responsibilities
Product managers are focussed on creating a product that customers need and want. They are responsible for managing the entire lifecycle of the product and creating a vision of the products' future. As mentioned previously, customers' needs and expectations change on a daily basis. That means continuous development and agility are key concepts that govern a product manager's job role.
Creating a product roadmap is also a key responsibility. This essentially maps out the path to meet the product vision, detailing the specific steps that need to be taken by the product team. However, once the product is finished, the product manager's job doesn't stop there. Beyond creation, they are in charge of monitoring the product's progress and continuous development with market research and promotion.
Project Manager's Skills
Project managers are mainly concerned with execution and adopt a goal-orientated viewpoint. They ask the who, when and how questions. They are the main decision-makers and must collect and evaluate data to make evidence-based decisions. Communication is vital, as not only are they communicating with their project team, but also external stakeholders. The project team needs a strong and clear leader, while other stakeholders require regular updates, keeping everyone informed and happy. Planning, organisation, risk management and even conflict management, are all skills they must have under their belt.
Product Manger's Skills
Product managers need to be more creative in their thinking as they aim to create a product strategy that drives value for their customers as well as the business. Concerned with the 'what' and 'why' questions, they have to put themselves in the customers' shoes to create a voice that represents an entire group. This requires empathy and curiosity to immerse yourself into the user's world and gain a deeper understanding of what they need/desire. This understanding also follows on to problem solving skills, as many products are produced in order to solve a particular problem. So, being a great problem solver and thinking outside the box are both vital skills for a product manager.
www.projectmanagementqualification.com/blog
Conclusion
This way product managers add value by focusing on the product vision. Meanwhile, project managers deal with project planning and execution and ensure that they deliver a quality product on time and on budget. Casting the confusion and overlapping skills aside, product managers and project managers form a powerful duo after all. Their differences complement each other and guarantee the long-term success of an organisation. Treat them appropriately and they'll take care of your business.
https://www.paymoapp.com/blog
https://www.projectmanagementqualification.com/blog
https://www.pm360consulting.ie/online-onsite-courses