Turn your organisations project management capabilities into a competitive advantage. Whether you are in charge of a team, a department or at enterprise, leadership level, leadership skills are absolutely essential. to sustaining profitable business change. Executive Project Leadership calls for clear communication about goals, responsibility, performance, change management, strategic thinking, expectations and feedback. Our project leadership training offers training for all levels of experience from the aspiring leader to the executive at the c-suite level.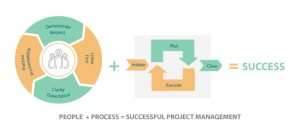 Executives tend to focus on business goals, project results and return on investment. Project management practitioners focus on tactics, processes, tools, techniques and deliverables. Each profession needs to understand there is a difference between project success and business success: research has shown that 30% of the projected business benefits will actually be achieved from the implementation of the project;

70% of those benefits will come from putting in place a process for making people accountable for the change and having a system in place for realizing the project benefits long after the project has been implemented.
Successful projects demand strong commercial leadership from c-suite executives.Leadership skills are perhaps the greatest determinant of project success.
WHAT ARE THE DELIVERABLES FROM THE EXECUTIVE PROJECT LEADERSHIP WORKSHOP?
Role of Executive Project Leadership and Sponsorship
Selecting and Prioritiizng Projects
Benefits of Project Selection and Prioritization
Key Success Factors
Clear Project Success Metrics & Benefits Card
Agile and Project-Driven Organisation Building Project Success
Implementation Challenges
Understanding Project  Success and Failures
Executive Project Leadership Roadmap – Actions
Applying the Project Canvas into Practice
Seven Habits of Highly Effective People
Dublin   24 November 2021   [9.00 – 1.00] Public Workshop €495
London  3  December  2021    [9.00 – 1.00] Public  Workshop £495
Dublin  10  December  2021    [9.00 – 1.00] Public  Workshop €495