SCOPE & PLAN A PROJECT IN A DAY
Projects can be very stop-start in nature. We do some stuff  and then we have to wait, for example for reviews or approval or inputs from other people. Nowhere is this trurer than they fuzzy front end. Everyone believes they have something to contribute, lots of people want "sign off" and there are always people who feel there inputs are been ignored. At they same time, becasue the project hasnt really got off they ground yet, there are always a million and one things  more immediate and pressing.The net result of all this can be a long and frustateing period  while the project requirements are identifed,nailed down and agreed.
We can circumvent all of this by concentrateing them into one decisive effective event called a "Project Scoping and Planning Session"
BENEFITS
The benefits of this approach are:
Projects are launched in a day. The project is actually up and running by the end of the day.There is no quicker and more cost-effective way to begin a project.

Clear project objectives,project requirements and agreement / buy in from these stakeholders.

Accurate estimates upon which firm commitments can be made.

A clear picture of how the project will unfold.

A kick-start to the project.

Gain a competitive advantage.
In their book, Developing Products in Half the Time, the authors Smith and Reinertsen refer to the beginning of the project as 'the fuzzy front end'. They say this: 'Time is an irreplaceable resource" When a month of potential development time is squandered, it can never be recovered … each month of delay has a quantifiable cost of delay.
If the 'fuzzy front end' is where 'opportunities to achieve large improvements in time to market' are greatest, then learning to scope and plan a project in a day is the best way of maxing out those opportunities.
THE METHOD
There are two key things that are key to making this method work for you. The first is to bear in mind that your objectve is to  end the day with two deliverables – the scope document and  planning document.The other is to spend the time as wisely as possible to achieve these two deliverables.

BOOK EARLY – LIMITED AVAILABILITY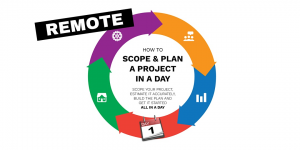 London 31st August 2022   [9.00 – 5.o0]  1 Day Workshop €495
Dublin    14th September 2022  [9.00 – 5.00]  1 Day Workshop £495
Dublin    12th October 2022   [9.00 – 5.00] 1 Day Workshop £495
Dublin    16th November 2022  [9.00 – 5.00] 1 Day Workshop £495