SCOPE & PLAN A PROJECT IN A DAY
In their book, " Developing Products in Half the Time" the authors Smith and Reinertsen refer to the beginning of a project as "the fuzzy front end". They say this: Time is an irreplaceable resource.When a month of potential development time is squandered, it can never be recovered –  each month of delay has a quantifiable cost of delay.Our goal as developers is to find opportunities to buy cycle time for less than the cost of delay.These opportunities large and small appear throughout the development project process.
If the " fuzzy front end" is where the opportunities to achieve large improvements in time to market – are greatest, then scoping and planning a project in a day is the best way of maxing out those opportunities.
Instead of the traditional approach to scoping and planning a project – through endless meetings – brainstorming sessions – workshops – review cycles – waiting time on sign off by key stakeholders. Alternatively we can concentrate all  those activities into a one  day focused  workshop.The big idea here is that it's possible to complete projects much more quickly than we do at the moment. By treating each project day as being precious and irreplaceable and you get far more productivity from that day – at the same time avoiding working long hours, burnout and death march projects.
BENEFITS
The benefits of this approach are:
Projects are launched in a day. The project is actually up and running by the end of the day.There is no quicker and more cost-effective way to begin a project.

Clear project objectives,project requirements and agreement / buy in from these stakeholders.

Accurate estimates upon which firm commitments can be made.

A clear picture of how the project will unfold.

A kick-start to the project.

Gain a competitive advantage.
THE METHOD
There are two key things that are key to making this method work for you. The first is to bear in mind that your objectve is to  end the day with two deliverables – the scope document and  planning document.The other is to spend the time as wisely as possible to achieve these two deliverables.

BOOK EARLY – LIMITED AVAILABILITY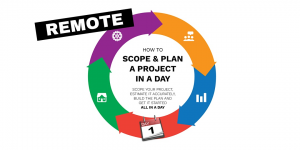 Duyblin 29 November 2023   [9.00 – 5.o0]  1 Day Workshop €495
London 16  December 2023  [9.00 – 5.00]  1 Day Workshop £495
Dublin   19 January 2024   [9.00 – 5.00] 1 Day Workshop £495
London 26 January 2024  [9.00 – 5.00] 1 Day Workshop £495
Dublin 16 Febuary 2024 {9.00 – 5.00} 1 Day Workshop £495