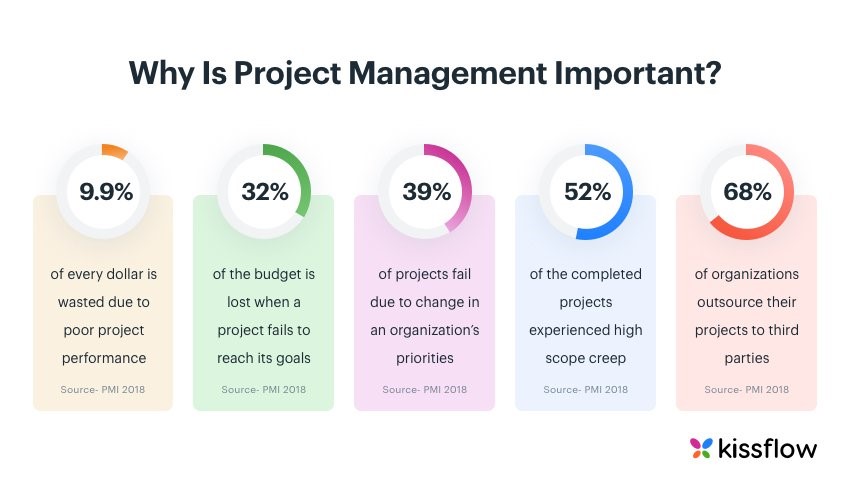 24 May

A Guide to Project Management Essentials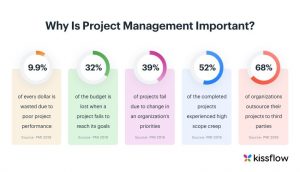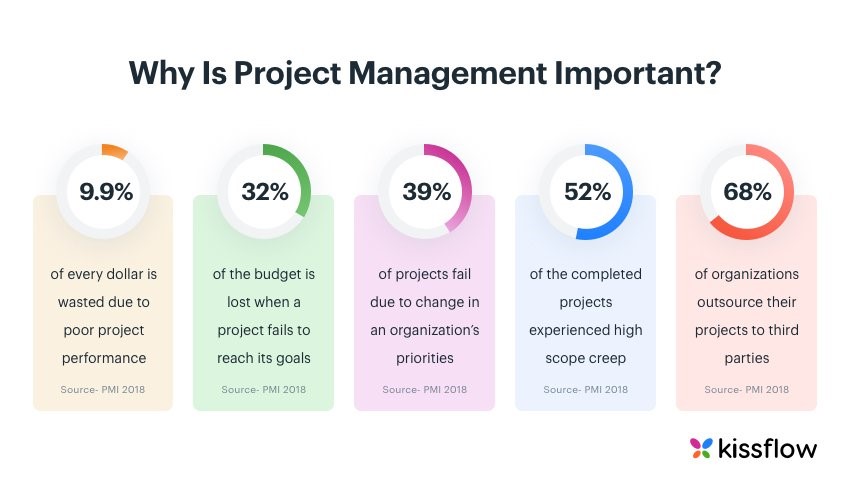 Project Management Best Practices that Can Enhance Your Business
Project management is high in demand in variety of industries and so is the need of project managers. In today's economy, irrespective of industry, project management finds its wide application.
Why? Project management and project managers today are found in every organization and business. With burgeoning competition around the world, companies understand that innovation and change are essential for growth and success. In response to these challenges, organizations need structured approach to plan, organize, control and manage their resources and (internal capabilities) to deliver timely results and these results should be aligned to business goals.
Project Management helps companies, large and small, achieve their goals and objectives. However, before an understanding of project management can be provided, a brief description of what a project is might be needed.
Projects are best run by Project Managers who, depending on the objective are responsible for adding business value, planning, scheduling, costs, communications,tasks and resources management, risk analysis,contingencey,deliverables and benefits and more. Project Managers work with teams apply a variety of tools and techniques and are responsible for projects delivery throughout the course of the Project Lifecycle. Before we define the project lifecycle we will explore the role of a project manager in more depth.
What is a Project Manager?
The project manager has quite a large remit as they are the person responsible for ensuring a project is completed on time and within budget and scope. However, while their responsibility is quite large, in many cases the resources they have available to accomplish these goals often report to leaders in other areas of an organization.As such project managers need to have strong leadership skills,soft skills and the ability to work across boundaries and teams. Note that in some cases, the project manager role overlaps with a product managers responsibilities, so it's important to learn the differences between project and product managers.
Why Companies Need Project Managers
Companies that fail to deliver projects on time,on budget and scope objectives,  risk impacting customers requirements which can have a negative effect on profitability and future business. Good project managers help companies achieve the goals they have set out to meet. They provide the teams working on the project with a specific vision that aligns with the companies objectives so they understand the underlying importance.Projects can be accomplished without a project manager, but if a company wants to deliver projects effectively and efficiently, a project manager is a requirement. Project managers help control project scope,plans,costs and performance ensuring that the designated team is not distracted and can focus on the delivery of the tasks.
Defining the Project Lifecycle
There are many different project management methodologies around the world. One of the largest and most well-known is the Project Management Institute (PMI), PMP method which has defined five unique phases for any project.
Predictive

planning provides a linear, specific development plan structured around producing a pre-determined end result within a specific timeframe.
1.Project Initiation
Projects need a charter and the initiation phase is where this is created. In the project initiation phase, project managers try to understand the business objectives of a project and its overall scope. During this phase, project managers look for and identify key stakeholders and also confirm project funding.
2.Project Definition and Planning
The project planning phase is a key step in determining what all of the different tasks are with a project. Specific goals are established that are ideally defined using the SMART methodology so that all parties are aware of what needs to be accomplished and by when.The project definition phase also includes an understanding of the overall costs of implementation and the resources needed for success. Project planning might sound like a phase that only occurs at the start of a project but in reality, this phase continues throughout a project as work gets done and deliverables get adjusted.
3.Project Execution
This phase of a project is where the bulk of the work happens as tasks identified in earlier phases are completed. Project managers are responsible for ensuring that identified tasks are completed in accordance with the agreed-on schedule and also responsible for making adjustments based on unplanned changes that occur through the project.
4.Project Control and Monitoring
During this phase, project managers measure specific Key Performance Indicators (KPIs) to ensure that the project is on track. Based on the ongoing results of this earned value management measurement, adjustments are made to plans where appropriate.
5.Project Closure
All projects have a defined beginning, middle, and end. The Project Closure phase is the end of the project. Project managers need to create lists of tasks that were not completed during the course of the project and also prepare reports on resource and budget utilization. Staff seconded to the project management team for the duration of the project are also returned to their teams during this phase.
Adaptive planning involves breaking a project into small components over an undetermined timeline to allow ultimate flexibility in directing the course of the project.
The Agile model is very different from the PMP model. Agile is most common in software development teams and is used for small iterative projects that are known as sprints. Basically with agile, a larger project is broken down into smaller phases with each phase having a measurable benefit. Agile is great when frequent change is envisioned as teams are able to pivot and adapt.
The steps in Agile techniques can vary somewhat based on the exact method employed. However, Agile steps generally include:
A project brainstorming session
Production of a functioning component of the project
Delivery of component for feedback from multiple sources
Implementation of stakeholders feedback into project design and goals
Production of another project component under the redefined project parameters and goals
Kanban Board
The Kanban Board was popularized by Scrum project managers as a means of tracking work in progress. They are an excellent method of tracking work in progress and are especially popular in Agile project teams.With Kanban boards, project managers can visually depict where specific tasks are in the process and can move tasks between different states quickly and easily. Simple Kanban boards can be as uncomplicated as To Do, Doing, Done but they can be easily expanded based on business requirements.
PM360 Consulting flagship course teaches a project management method known as "Structured Project Management" or the "Ten Steps".
The  "Structured Project Management" method is based on  over 25 years of reserach on the best practices of successful projects as against the poor practices of failed projects.
Ten Steps to a Successful Project
Plan the Project
1.Figure out the Project Goal
2.Make a list of all Jobs
3.There must be One Leader
4.Resources – Assign People to Jobs
5.(a) Have a Safety Margin
Contingency
Risk Management
5.(b) Set the Stakeholders Expectations
Execute the Plan
6.Use an appropriate Leadership Style
7.Knows what's going on (Tracking the Plan)
8.Tell people what's going on (Reporting)
9.Repeat steps 1 to 8
10.Do a post mortem (Lessons Learnt)
You will have learnt innovative project management techniques and solutions that will transform the way your company manages projects, enabling you to achieve consistently successful results. 
Article written by Padraig Friel PM360 Consulting 24th May 2021
wwww.pm360consulting.ie